DEATH EQUINOX '01:
Cyber-Psycho Convergence IV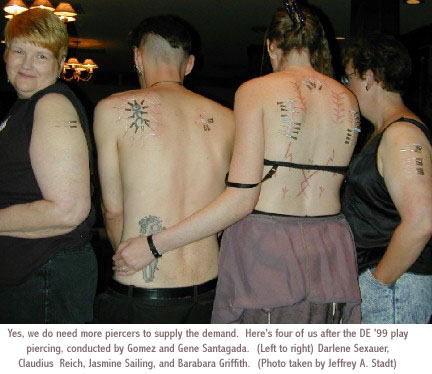 Thursday-Sunday, October 4-7, 2001
at The Ramada Inn, Denver Downtown
(Contact: Death Equinox '01 PO Box 581 Denver, CO 80201 or jsailing@netonecom.net)
Guests of Honour:
Avant-Prof GoH: Lance Olsen
Visual Depictionist GoH: Andi Olsen
Horrific Literatist GoH: Brian Evenson
Master of Crack-Toast: Michael Hemmingson
Veteran Guests: Larry McCaffery, R. N. Taylor, Edward Bryant, Lee Ballentine, Little Fyodor, T. Motley, and Gomez.
GoH Info
An essay about Our Crack-Toast Master
Other participants include: Tim W. Brown (novelist and editor), Babushka, Gene Santagada (arachnologist and kink), Winona Righteous, Robert Ferbrache, Gordon Klock, Jasmine Sailing (Cyber-Psychos AOD), Bruce Young (Toxic Broadcast System), Chris Yardley (Tantric Lobotomy Commission), Tim Brown, John Gross, Todd Oliver, Judy Saxe, and many more.

Participant Bios
Programming Features: Events, readings, demonstrations, panels, workshops, live music, film, and Jellyfish.
Specific Convention Departments: Critters & Gadgets, Art Room, Dealers' Room, Auction, DE Books, etc.
Death Equinox Staff and their info.
Basic DE info can be had through the base Death Equinox page.
For more information contact: Jasmine Sailing
email: jsailing(at)netonecom.net
Mailing Address: PO Box 581 Denver, CO 80201