Cnidarians Against Drones Protest
Saturday, April 27th, Noon
West Side of the Capitol (Lincoln St.), Denver Colorado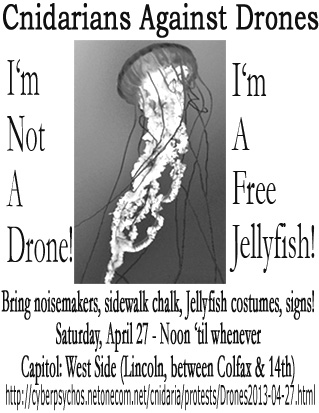 Archive of media and commentary from the Cnidarians Against Drones protest. Have something you want included? Get in touch!
Pre-Protest Info: What led to this protest, and what we planned to do with it.
Event Report by Jasmine Sailing. Lots of Cnidarianly topic meandering. Includes some photos. Written May 4, 2013.
CAD Media: (Social media links.) Imgur photo album, Storify, Twitter feed, and one strange garbled 27 second livestream video. (Updated: 05/09/13)
Return to the Cnidarian Protests index.