The Blasted One
"Behold a Fiery Rain of Cnidocytes"
or
"The Joys of Hot Pepper Juice Masturbation"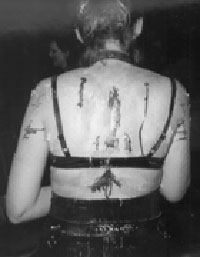 Is it a happy or sad thing if people want to see you bleed?

This is the personal web site for Jasmine Sailing, created by... Jasmine Sailing. (Who woulda thunk it?) Here you can find random thoughts and commentaries, plus archived excerpts and occasional entireties of some of my previously published fiction and non-fiction. I try to randomly add other sections (or update existing sections) as time and motivation allow. Note that I'm spacy, flaky, introverted, reclusive, often loathe to deal with the world... and therefore I'm prone toward being slower than a sun-baked worm on a sidewalk. There's no easy guessing when I'll update. I could fall silent for years, and then have a sudden spat of manic productivity. It happens. For more in-depth reading and exploration, I've included links to other my other web sites + a few other pertinent links.

The contents of THIS web site are copyright Jasmine Sailing, unless otherwise indicated.

Introduction to this semi-archaeological, semi-new, website. (Added: 04/09/13)

IMAGES: To the left is my bloody back after being cut and burned for an hour whilst reading Of Waxen Figures and Screaming Tombs (excerpted under Fiction) at Death Equinox '98. To the right is me a little earlier in the same evening, strapped to the St. Andrew's Cross during my reading.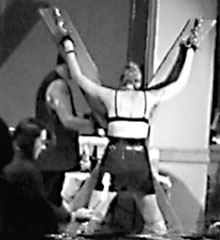 P.S. Unless they are already dead, I have always (even as a young kid) picked worms up off the sidewalk and returned them to the safety of dirt and vegetation.
Note 01/30/10: Check the links at the bottom of the page for my mailing lists, my music profile on last.fm, and even my teensy Wikipedia bio. The most recent section added to this site was Poetry, which currently only has one entry. Before that I added an Event Journal section, which also only has one entry. Sheesh, I know. Give me another 5 years and I'm sure I'll remember to add more to the sections.
* My Bio, which is now LONG and auto-biographical. Find out about some of the various slimy, deviant, activities I've partaken in. Some of the ones I'll admit to on-line, anyway. (Updated: 12/03/2009)
* Random Thoughts of the Moment essays. (New entry: 11/04/13)
* Full Texts and Excerpts from Articles by Jasmine Sailing. (Updated: 08/26/04)
* Excerpts from Fiction by Jasmine Sailing. (New segments: 01/20/01)
* Samples of Poetry by Jasmine Sailing. (Section added: 12/02/09)
* Inane Rambly Event Journals. (Section added: 10/13/09)
* A smattering of Web Articles, as I remember them by accidentally stumbling across them. (New entry: 02/18/11)
* My Gallery of the Flesh: Due to the graphic nature of some of these photos of myself (though there is no sex, by common definition, or stark nudity -- only pain, blood, and needles), I can't recommend them to queasy people or minors. Some "normal" photos are included. (2 Photos Added to Mundane Section: 02/15/12)
---
The following links will connect you to other sites (my other sites, in some cases). Use your back arrow (or button) to return here:
---
This web site is designed and maintained by Jasmine Sailing