Welcome to the TBS Online Catalog.
Products are grouped by type below with ordering information at the end. Feel free to ask for anything you don't see here. More product comes in every week, so check back for new goodies.
Coming soon: Contests & More Color!
Last updated 10/28/98
BOOKS***MAGAZINES***CASSETTES***COMICS***T-SHIRTS***ORDERING INFO
For Further Information or Requests, Send Mail to : Bruce Young
---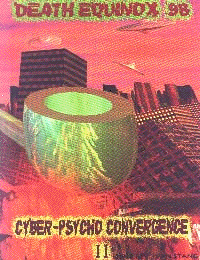 Death Equinox '98 Convention Book
Oh boy, if you missed this, you missed a lot. But all is not lost, you can still retain a veneer of respectability by grabbing the book that documents the whole experience. Cover art by Rev. Ivan Stang, Prose/Poetry by Little Fyodor, Loren Rhoads, Ir. Friday Jones, Hector and a load of bios & other goodies. Hurry! The price will go up as stock dwindles! $6.50
Death Equinox '97 Convention Book
Relive the experience that was DE '97! This is jam packed with interviews, fiction, and artwork by such luminaries as: Don Webb, John Shirley, Ed Bryant & Brian Hodge. Also includes the flyer gallery featuring all of the DE '97 publicity artwork. Full color cover by Gordon Klock. Very limited quantity and the price will rise as the stock dwindles, so get yours today. $8.00 60pps softcover
Minstrels by Michael Hemmingson
A rollicking adventure in near-future Paris. Part detective story, part adventure, this is guaranteed to thrill and entertain.
"Hemminson's work is read since he writes about sex and drugs. This is good, but it would be better if this work was read since it explains how corruption works-how quickly, and with what ease we can all sink to its depths." Review of Contemporary Fiction
$11.50 148 pps softcover
Silicon Embrace by John Shirley
Think you really want to know what's going on in Area 51? Think again.
Could it be true that humanity has a secret history and it's coming to fruition? Is the time of Miracles upon us? Is the flying saucer hysteria in the media infused with another meaning, a transmission? All this and more will be answered herein. Another supberbly crafted tale from the godfather of cyberpunk. Cover by Paul Mavrides. $25.00 282pps hardback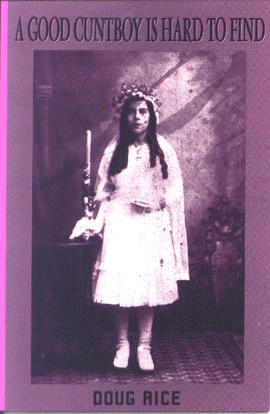 A Good Cuntboy is Hard to Find by Doug Rice
Doug follows up his Congressional attention-worthy Blood of Mugwump with this. Sure to raise eyebrows, twist minds (among other things) and leave at least one person saying, "But I thought I could wank to it?" Trust me, you need this. $6.50 76 pps softcover
The Convulsion Factory by Brian Hodge
12 short stories focusing on urban decay in the shadow if the millennium. Amputee fetishists, tooth demons and Burroughs tributes fill these pages. If you don't get this, you're really missing out. Witness the birth of Nihil and be awed. $35.00 230 pps hardback
Star Bones Weep the Blood of Angels by Sue Storm
7 harshly emotive tales about the innocence of youth, and how it becomes corrupted. Illustrations by Karen Harris $6.50 64pps
"Storm wields a diabolical expertise, a prose style glittering and sharp as ancient bone needles, images fragile as depression glass; each word is a pin-prick, each vision the finest tracery of razor slices, all aggregating into a gossamer lattice of the blackest surrealistic reckoning."-Edward Lee, from the introduction.
Nice Little Stories Jam-Packed With Depraved Sex & Violence by Michael Hemmingson
6 sordid tales chock full of psychosis and perversion (but intelligently written, of course). Illustrations by Paul Schiola & Jim Bob Cook. $6.50 70pps
"Mike Hemmingson is Raymond Carver on acid" -Larry McCaffery, editor of Avant-Pop
"(Hemmingson) definitely deserves credit and a nice round of applause for ending his book with a tip of the hat to the brilliance and profound cunning that many of us psychos do indeed possess." -Full Force Frank, from the introduction.

The Naughty Yard by Michael Hemmingson
A story as told by the child of Henry Miller and Molly Bloom A story with a Kama Sutra twist and a goatbreaking view of the moon. $7.50 104pps
"a killer series of intersecting monologues, darkly beautiful and deeply impassioned, violently raw & vibrantly menaced, about the interstellar distances, both psychological and physical, between people in the last years of the millennium" - Review of Contemporary Fiction
Lend the Eye a Terrible Aspect Eds. Loren Rhoads & Mason Jones
This provocative collection of essays, short fiction, and artwork will absorb, shock, stimulate, anger, and amaze you. Contributors include: Jello Biafra, blackhumour, Brian Thomas, Loren Rhoads, Shawn Case, Mason Jones & many others. $11.50 166pps
"We are living in science fiction. The times are moving faster than we can possibly absorb." - Don Bajema "A Nation of Cowards"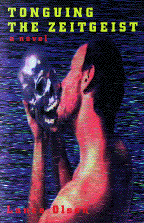 Tonguing the Zeitgeist by Lance Olsen
So you want to be a rock 'n' roll star? In a future that isn't distant enough, you'll have to sell your soul to MTV just to pick up a guitar. And then they start carving you up, making you over in the mega-media image of glitter and bone. Poor Ben Tendo, he just wanted to play music and make love to Jessika $13.50 192 pps
"Lance Olsen writes as if he were Lucifer taking the long plummet to Hell. His prose lights the sky with mocking laughter and burning conviction." - Lewis Shiner
Three-Hand Jax and Other Spells by Staszek (Stan Henry)
A new nakedness, a strip-tease of surprise; Jax brings Staszek out of the underground and into your life with his first prose collection. 6 stories to amaze and elighten. "A growth-guru for disoriented young Gay men" says Robert Patrick. $10.50 176 pps
Ciphers by Paul Di Filippo
"A Post-Shannon Rock-n-Roll Mystery". Described by the author as a Thomas Pynchon homage (with no delusions of self-graduer) Ciphers will tease your mind as it fascinates and envelops you. "...they just don't come more Di Filoppian than this baby." Bruce Sterling. If you havn't caught him yet, don't miss your chance now. $17.50 534 pps
The Final Dream & Other Fiction by Daniel Perlman
"Literate science-fiction" says Publisher's Weekly. Well, what can I say on top of that? A dozen short stories that win praise from Joe R. Landsdale, George Zebrowski, and Paul Di Filippo. $16.50 268 pps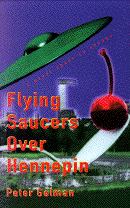 Flying Saucers Over Hennepin by Peter Gelman
When the yuppies were hustling and getting theirs, and the slackers were slacking, Hennepin Avenue was overrun by doppleganger mannequins. Possibly including yourself! Is it fiction or a secretly released document made to look like fiction? Find out for yourself. $12.50 196 pps
Flyscraper Day of the Fly by Mark Romyn/Toxic Shock Syndrome by Carolina Vegas Starr
A Double Flip book. Flyscraper: See the giant flyman punch a city! Hear the voice of a nation cry out in annoyance! Feel the savage forbidden love of darkest Switzerland. And laugh yourself all the way to the other book. Toxic Shock: Why are women all across America dying? Could it be the government? Nah, what have a bunch of rich white guys got against women? From the author of Lesbians for Satan. $9.50 142pps total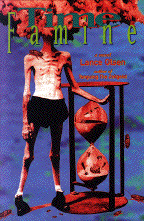 Time Famine by Lance Olsen
A nuclear meltdown, a governcorp conspiracy, damning data archived in time-lost computers, and a hero stuck with the Donner party; what more could you want? A great novel by a great guy. Buy lots and release this guy from academia. $14.50 324 pps
Stained Glass Rain by Bruce Boston
Well known for his fabulous poetry, Bruce Boston now presents his first full length novel. A coming of age story set in 1966 New York City, Stained Glass Rain repeatedly crosses the line between hallucination and realtiy. "Right up there with Ed Sander's Tales of Beatnik Glory and Phillip K. Dick's A Scanner Darkly", says Rudy Rucker. Can't beat that. $15.50 460 pps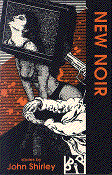 New Noir by John Shirley
6 eloquent short stories by one of the pre-eminent genre writers today. Published in 1993 with illustrations by Ferret, this is a must have for any fan of contemporary fiction. $8.00 116 pps
The Hanging Man by S. Darnbrook Colson
The world becomes steadily more desensitized. A mutilated, and thoroughly helpless, man brings only the emotions of rage and homicidal desire to the more friendly minds. Choices are desired, but never truly offered. These present truths are mirrored in this fascinating book. Illustrations by Alex Seminara. $6.50 64pps
Snuff Flique by Michael Hemmingson
Embrace the Jellyfish and witness what you've been missing in these final days. A round of short stories too true to believe. Illustrations by RAS. $6.50 104pps
Stealing My Rules by Don Webb
Another excursion into the beyond through the medium of Don Webb's twisted mirror. Short stories to pleasure the senses and enhance the mind. Illustrations by Christian Patchell $6.50 76pps
Stigma: Afterworld by Jeffrey A. Stadt
A very schizophrenic novella dealing with the interacting lives of residents of a a mental half-way house. Friendship, love, desire, rage, insanity, and alternate dimensions in which manifesting ogres and cartoons rage. Illustrations by t. winter-damon $6.50 64 pps
---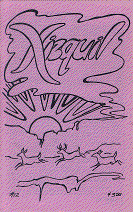 Xizquil $4.50 each
A quirky and entertaining anthology edited by Uncle River. Well worth the cover for just a sampling of what's inside.
#9 features Sue Storm, t. winter-damon, Jim Lee, & Lone Wolf Circles 62pps
#11 features t. winter-damon, Marge Simon, D.F. Lewis, Sue Storm, Don Webb, Steven L. Shrewsbury & much more 58pps
#12(shown here) includes David Memmott, Steve Sneyd, Sue Storm, & Marge Simon to name a few 58pps
The Collective Cauldron
"An Exploration of the Many Sides of Magic and the Occult"
Includes work by Don Webb, Jasmine Sailing, Loren Rhoads, DF Lewis, Jeffrey A. Stadt & others. Not to be missed $5.50
Tiamat $10.00
60 Oversized pages of poetry, short stories and essays. Includes work from William Pugmire, Thomas Ligotti, JK Potter and HR Gieger
Morbid Curiosity #2 $6.50
100% all true stories from all over. Topics include assisted suicide, Folsom prison, heroin withdrawl, zombie salmon, phantom hounds and much much more. Edited by Loren Rhoads
Necropolis $3.00
32 8 1/2 by 11 pages of comics, art and stories. Features Brian Cooper, Jeff Po wers and KL Stewart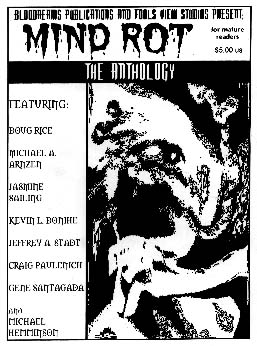 Mind Rot
Fiction the way you like it. Raw and rough. Features work by Doug Rice, Michael A. Arnzen, Jasmine Sailing, Gene Santagada, Jeffrey A. Stadt, Michael Hemmingson & more. $6.50
Q.Zine
Stories, rants & reviews from the bleeding edge.
#1: Len Bracken, Guy Debord, Queers $5.50
#2: Hugh Fox, Jasmine Sailing, Len Bracken, & a pile of reviews $5.50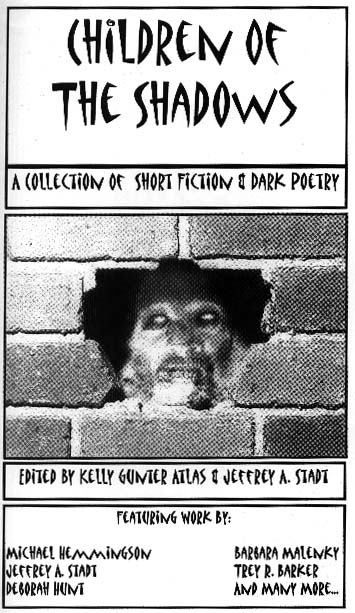 Children of The Shadows
Short Fiction and Dark Poetry Anthology. Includes pieces from Deborah Hunt, Jeffrey A. Stadt, Trey R. Barker, Michael Hemmingson, Jasmine Sailing, Mark Tomlinson & others. $5.50
Cyber-Psychos AOD
The premier compilation of art, music, culture, literature and general mayhem for our times.
#1:Pigface, Alien Sex Fiend, Joel Haertling/Architects Office, Brian Cooper, Richard Wilbur; Artist Profile: Gordon Klock; Nymph, cyber-tech. $6.50
#2:The Electric Hellfire Club, Godflesh, Front Line Assembly, Pamela Z, The Cutthroat Empire, DF Lewis, Gregory R. Hyde, S. Darnbrook Colson; Nymph, Schism, cyber-tech, plus a bonus "Leather Pope" mini-comic. $5.50
#4: G.X. Jupitter-Larsen, t. Winter-Damon, Type O Negative, Sofa head, Lucy Taylor, Edward Lee, DF Lewis, Jeffrey A. Stadt, Jaci Marsh; more 2-Headed TV Casualty; Nymph, Schism and lots more. $5.50
#5: Vampire Rodents, Joe Christ, Julie Doucet, Bruce Boston, Jeffrey A Stadt, Don Webb, Sue Storm, Gregory Nyman, WH Pugmire, Uncle River, S Darnbrook Colson, Wayne Allen Sallee; Even More 2-Headed TV Casualty; Nymph, Schism, Biology 120 plus more than can be listed here. $5.50
#6: Brian Hodge, Sleep Chamber, Severed Heads, Feral House, Hakim Bey, Uncle River, Mark Amerika, Michael Hemmingson, Bruce Boston, K.K. Ormond, t. Winter-Damon, Don Webb, Rev. Chris Korda, Street-Tech, Multi-Media Reviews, Hallucinogenics, And More... $5.00
#7: John Shirley, Larry McCaffery, Carol Lay, Paul M Sammon, Little Fyodor, Charlee Jacob, H.E. Fassl, Don Webb, Cold Meat Industries, & tons of reviews are just the start. $6.00
#8: Uncle River, Misha, Lance Olsen, Doug Rice, Hector, DF Lewis, Andi Olsen. Present, Mason Jones, Michael Moynihan and the WSB farewell tribute $6.50
Nobodaddies
A Journal of Pirated Texts, edited by Doug Rice. Essays, fiction and much more
Volume 1, Issue 2: Raymond Federman, Robert Hardin, Mark Amerika, Robert Gregory Griffeth. Norman Conquest & a Pile More. $8.50
Volume 2, Issue 1: Lance Olson, Ron Sukinick, Cris Mazza, Robert G Griffeth, Rebecca Brown & yet another Pile! $8.50
---
Futura Ultima Erotica: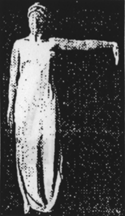 "Previously Unreleased" (C-40) $6.00
A fine collection of new material as well as
some early songs and favorites. Includes Cash
& Carry, Boots, Future Lament, Caravan, & Bell Song among others.
"The Box! Live" (C-60) $6.50
FUE's renowned live show from '92 and '93.
Features Baby's Boundaries, Spy Song, Harvest,
Whip Me Beat Me, Boots and more.
"A Quick One" (C-30) $5.00
From 1982 at Studio Ethel. Includes: Two Ladies, Baby's Boundaries, Ring, European Song and more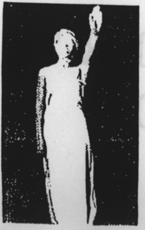 "Spiegal Ausmass" (C-60) $6.50
From 1982 at Studio Ethel. Includes: Two Ladies, Baby's
Boundaries, Ring, European Song and more
Dr. Pain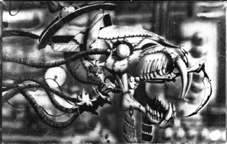 "The Flesh EP" (C-30) $5.50
Includes: Brother Suicide, Maybe Tomorrow, I Give You Flesh, Age of Superia, others
Motem and the Ignescent Iguanas:
"Seasons" (C-30) $5.50
Parts 1 and 2 from 1992
"Pink Slit" (C-60) $6.50
Recorded at Studio Ethel and Sebastian's in '92. 14 tunes to please and torment. Includes: Ode to Murphy, Roadside Manor/Acidhouse Blues, No Absolution...Goon Patrol:
"Chronicles" (C-30) $5.50
The latest conglomeration of TBS artists. Includes: Threw the Looking Glass, Spawn or Spurn, Divine Excrement, more.
Gordon Klock
Fresh Dead Bird Satellite CD $10.00
25 little ditties guarenteed to spice up your life and entertain your brain. As well as stretch it in shapes you didn't think possible. Grab this and be amazed.
The Panther Moderns
"Red Star" CD $8.00
Music from John Shirley. 11 riviting tunes including: Panther Pit, Look but Don't Touch & See You in Black. Not to be missed.
Little Fyodor & Babushka
Dance of the Salted Slug CD $10.00
How can anyone resist the charms of Little Fyodor & Babushka? Rev. Ivan Stang's favorite new band! Includes The Blackness, Watching the Squirrels & Get Out of My Head. Invaluable
---
Blue Heaven Collectors Pack:
Compilation of BH 1-4, Broadsheet #1, Blank Heaven, Sticker & BH #4 $3.50
---
Blue Heaven (Pistol) Large: $11.00
TBS (Test Pattern) Large $11.00
TBS (Icon) Large $11.00
Electronics Extravaganza Large $15.00
---
To order, send to:
TBS
PO Box 300502
Denver CO 80203
Postage:USA: ppd
Canada/Mexico: add 15%
Europe/Australia: add 25%
Asia/Japan: add 30%
Make orders payable to: Bruce Young
BOOKS***MAGAZINES***CASSETTES***COMICS***T-SHIRTS***ORDERING INFO
For Further Information or Requests, Send Mail to : Bruce Young