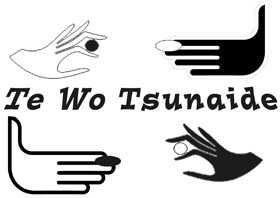 Te wo Tsunaide '08:
Denver's 4th Annual Pair Go Tournament
Saturday December 6, 2008: Boulder, Colorado
Presented by Fiery Rain of Go Stones
The 4th annual Te wo Tsunaide Pair Go tournament has now come and gone. Has it really been so many years now? Judging by how much the regular youth players have grown since '05, I guess it has! And now it will be another year before the next Te wo Tsunaide, so we'll begin compiling a handful of memories here in the mean time. We had quite a few familiar faces, and the luckily perpetual handful of new faces as well. I hope everyone enjoyed playing Pair Go! As always, anyone who attended Te wo Tsunaide '08 (as a player, spectator, or staff member) is welcome to contribute.
There's a lot more past archiving to browse through via the Te wo Tsunaide '05, Te wo Tsunaide '06, and Te wo Tsunaide '07 archives as well!
Back to the Te wo Tsunaide index (if you are done here).
---
Te wo Tsunaide '08 Reports and Photos:
---
Te wo Tsunaide '08
Date: Saturday, December 6, 2008
Start Time: 10am
Location: UMC, Boulder
Te wo Tsunaide '08 staff:
Organizer: Jasmine Sailing
Pairings Director: Bruce Young
Organizational Assistants: David Weiss and Paul Barchilon
This web site is designed, maintained, and babbled all over, by Jasmine Sailing.