Te wo Tsunaide '08
Awards
---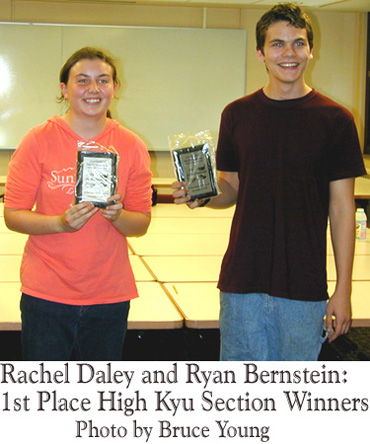 Awards:
1st Place Open: Laurie Linz (7 kyu) and Stu Horowitz (3 dan)
2nd Place Open: Jasmine Sailing (4 kyu) and Paul Barchilon (3 kyu)
1st Place High Kyu: Rachel Daley (20 kyu) + Ryan Bernstein (10 kyu)
2nd Place High Kyu: Jay Hoh (23 kyu) + Tucker Bergin (19 kyu)
Out-Standing Youth Pair: Diana Yang (7 kyu) and Albert Hwang (7 kyu)
Fighting Spirit: Katherine Lin (3 kyu) and David Weiss (3 dan)
Most In-Sync Pair: Jessica Lin (2 kyu) and Yaphet Tewahade (2 kyu)
---
There were 2 sections this year, Open and High Kyu (the Open is still really more of a Main Section, handicaps are given, pardon the organizer while she dreams). The tournament became a 3-round Swiss rather than a knock-out, due to an insufficient number of rounds. We had the usual total of 7 different awards, with matching plaques for each winning Pair.
The 1st place winners for both sections seemed to be making themselves apparent early on, easpecially in the High Kyu section. Rachel and Ryan played Jay and Tucker in round 2 to see which Pair would come out ahead (assuming they held it together in round 3, which they both did). Rachel and Ryan won all of their games, Jay and Tucker only lost to Rachel and Ryan. Tucker escaped before the Awards, but was reportedly happy and surprised to receive his plaque the next day.
It took 2 rounds for the Open Section to start looking more certain. After that we were reasonably convinced that Laurie and Stu would be 1st place. Paul and I (aka Jasmine) played Dave and Katherine to see which of us would be the ones who only lost to Laurie and Stu. Laurie and Stu won all of their games, Paul and I managed to accomplish only losing to them.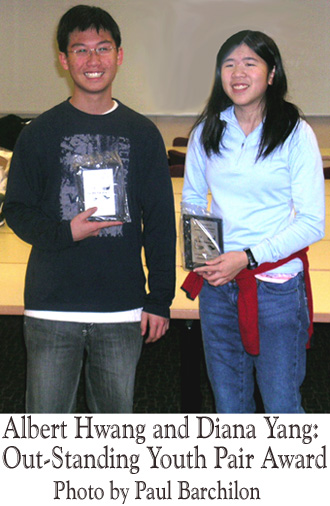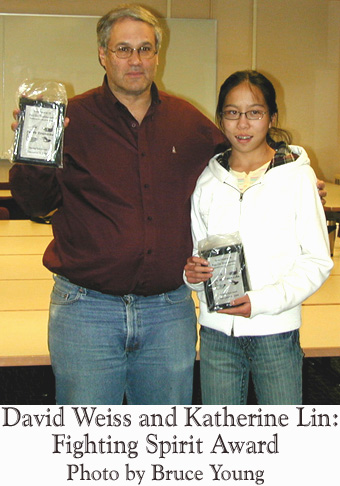 In the end, everyone who won at least 2 games got an award. The overall 3rd place Pair for the tournament was Diana and Albert. They were the top qualifiers for Fighting Spirit, and got Out-Standing Youth on a technicality of the next qualifying Pair having an adult in the line-up (therefore they could not qualify for Out-Standing Youth). If Fighting Spirit sounds better than Out-Standing Youth, I apologise. They are essentially the same award, but I wanted to clarify that Diana and Albert could've easily gotten either award.
Most In-Sync might have been a scary tie-breaker, but it sorted out. First some of the major contenders were already winning other awards, and therefore didn't qualify. It looked like Karen and Bob were in the lead (they DID even wear matching outfits, after all!), but then the late voters finally chipped in and Jessica and Yaphet pulled ahead of everyone. Karen and Bob were still 2nd place for the award.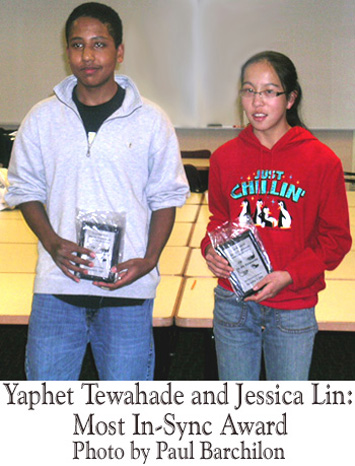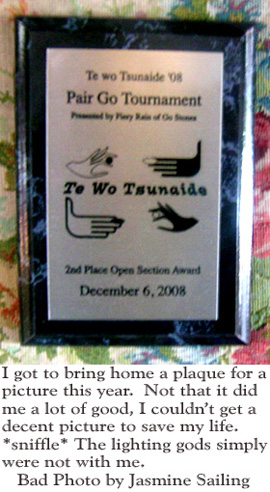 Here's some of the winning Most In-Sync votes. I also included a couple of random votes for other Pairs, because they amused me (and because I'm hoping it will encourage more thought and creativity in future vote justifications).
Congratulations as always to all of the award recipients, and to the other top contenders! Congratulations to everyone, for that matter, for all of their hard-fought games! If you didn't win this time, keep trying and your turn should come soon.
As people contribute tournament reports, you will be able to find more photos of the winners and their games on those pages. Also look for more in the photo gallery!
Back to the Te wo Tsunaide '08 index.