Te wo Tsunaide '07
Awards
---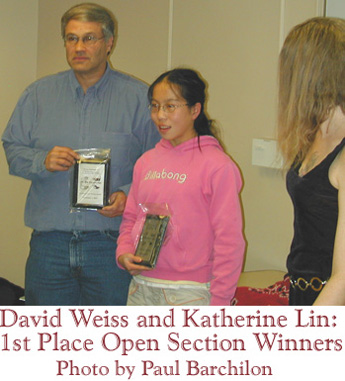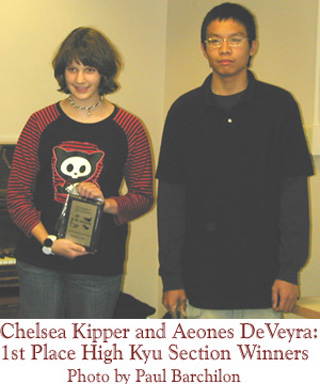 Awards:
1st Place Open: Katherine Lin (4 kyu) and David Weiss (3 dan)
2nd Place Open: Karen Jordan (4 kyu) and Bob Meyer (5 kyu)
1st Place High Kyu: Chelsea Kipper (20 kyu) and Aeones DeVeyra (3 kyu)
2nd Place High Kyu: Amy Chen (19 kyu) and Thomas Creel (14 kyu)
Fighting Spirit: DeeDee Eckles (15 kyu) and David Ring (4 dan)
Out-Standing Youth Pair: Jessica Lin (3 kyu) and Kellin Pelrine (4 dan)
Most In-Sync Pair: Diana Yang (10 kyu) and Albert Hwang (7 kyu)
---
Unawarded but notable:
3rd Place High Kyu: Jessie Ramos (19 kyu) and Kevin Gassaway (25 kyu)
2nd Place Fighting Spirit & Most In-Sync: Amara Sailing (18 kyu) and Paul Barchilon (2 kyu)
---
There were 2 knock-out sections this year, Open and High Kyu (the Open is really more of a Main Section so far, handicaps are given), plus the knock-out section, and a total of 7 different awards. Each award-winning Pair received matching plaques. A plaque picture may appear in the photo gallery, along with game pictures of everyone here.
The Open Section semi-finalists were Katherine Lin and David Weiss vs Laurie Linz and Stu Horowitz, and Karen Jordan and Bob Meyer vs DeeDee Eckles and David Ring. Unfortunately there was a handicap mix-up in the latter game, which resulted in an abnormal distribution of post knock-out awards (detailed below). The TD will have a double-checker next year!
The High Kyu Section developed an odd number issue in the semi-finals. The semi-finalists were Chelsea Kipper and Aeones DeVeyra vs Elisabeth Meyer (12 kyu) and Anton Nguyen-Vu (15 kyu), and Amy Chen and Thomas Creel vs Jessie Ramos and Kevin Gassaway. Due to the stand-in, Jessie and Kevin qualify as 3rd place for the High Kyu section.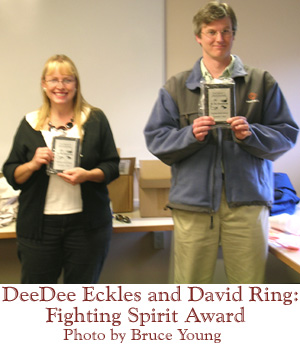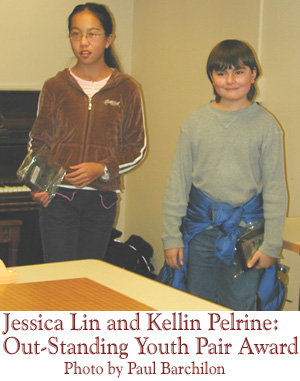 The Fighting Spirit award normally goes to the knocked-out pair with the most wins, just as the Out-Standing Youth award goes to the Youth pair with the same criteria. If we happen to have a complete tie, we can sort it out between the 2 awards if one of them is a Youth pair. This year it looked very likely that the DeeDee and David pair would have proceeded to the finals if it hadn't been for the handicap mix-up (5 point loss, despite the error), so they received the Fighting Spirit award. They definitely deserve it for managing to get so close to over-coming the handicap error.
In the math from the other results, there would have been a Fighting Spirit tie-breaker between the Jessica Lin and Kellin Pelrine and Amara Sailing and Paul Barchilon pairs. Both pairs won against semi-finalist pairs, and both were knocked-out by pairs of equal standing. As a result, Fighting Spirit would have gone to Amara and Paul and Out-Standing Youth would have gone to Jessica and Kellin (as it did). Amara is a youth, but Paul is an adult so they can't qualify for Out-Standing Youth. Many apologies for the mix-up. It was easy for Amara to kick the Tournament Director several times, because he's her Dad and he was at her mercy after we left the tournament.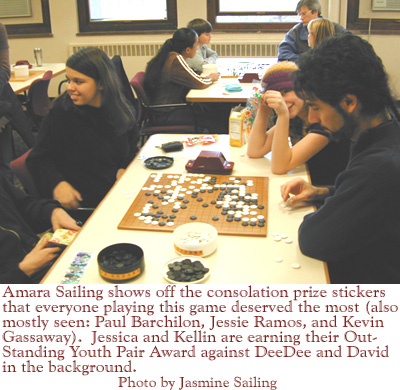 Fortunately Most In-Sync Pair was the post knock-out award that didn't become involved in this little tangle. Albert and Diana received the most votes, there was no tie-breaker. Amara and Paul once again barely missed out, they had the 2nd most votes. We're calling them 2nd Place for both Fighting Spirit and Most In-Sync. Albert and Diana had been practicing a lot on KGS, and the night before the tournament they asked if they seemed in sync enough. It seemed meant to be that they won this award! You can see their winning Most In Sync votes here.
Congratulations to all of the award recipients, and to the other top contenders!
As people contribute tournament reports, you will be able to find more photos of the winners and their games on those pages. Also look for more in the photo gallery!
Back to the Te wo Tsunaide '07 index.