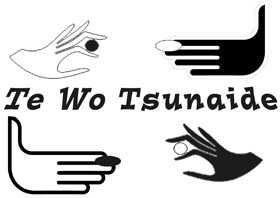 Te wo Tsunaide '06:
Denver's 2nd Annual Pair Go Tournament
Saturday December 2, 2006: Denver, Colorado
Presented by Fiery Rain of Go Stones
And another year of Pair Go has passed, with Te wo Tsunaide '06 being our 2nd annual tournament. We had a lot of new faces this year, plus a solid number of repeat attendees from last year. It is always a possibility that more reports and photos will eventually appear in this archive. Anyone who attended Te wo Tsunaide '06 (as a player, spectator, or staff member) is welcome to contribute! You can always contribute, even if it's a random nostalgic fit in 2015 (as long as the web site and I are still around).
There's a lot more past archiving to browse through via the Te wo Tsunaide '05, Te wo Tsunaide '07, and Te wo Tsunaide '08 archives as well!
Back to the Te wo Tsunaide index (if you are done here).
---
Te wo Tsunaide '06 Reports and Photos:
---
Te wo Tsunaide '06
Date: Saturday, December 2, 2006
Start Time: 10am
Location: Ramada Downtown Denver (Capitol Hill)
Te wo Tsunaide '06 staff:
Organizer: Jasmine Sailing
Organizer/Director Assistant: Bruce Young
Pairings Director: Steve Shapland
Photography: Ron Howerton
This web site is written, designed, and maintained by Jasmine Sailing.