Te wo Tsunaide '06 Comments:
Jasmine Sailing
Organizational View '06
Pair Go Tournament Report
by Jasmine Sailing (5 kyu)
Partner: Kent Evenson (3 kyu)
Winner: Fighting Spirit Award
I decided to come to my tournament on time this year (an hour early), for an interesting change of pace. This time there weren't many people there before us (Steve Shapland had set-up his laptop and the Director's table and my partner was present... both sights made me feel almost as secure as a full set-up room did last year), so I was forced to actually work for the set-up. ;)
There were the obligatory months of preparation before the tournament. Contacting everyone, re-contacting everyone, pestering every known or spotted female player, trying to figure out how to grow female Go player trees and remembering that I fare better with Christmas Cacti, several emails a day, updating the web site, brain-storming, etc. In the final week... some people had been misinformed of the date and couldn't be located. Another pre-registered person needed to leave town. People were re-partnered, which can be amazingly frustrating in the final week. Yet another person caught the flu, but fortunately that one sorted out. All of this was happening while I was watching the traditional Te wo Tsunaide snow storm brew in the weather reports all week (it's been sunny for over a week since then).
By the last day I stopped and thought, simply, "Well.". Time to sing Que Sera Sera or something. I almost instantaneously had several ideas for how to promote Pair Go throughout the next year. Fortunately the tournament worked out well, though, and people seemed happy again.
So there we were, unpacking and setting up the room, waiting for other people to arrive. When they did begin arriving my partner, Kent, said "Oh good, people, I was starting to get worried". It crossed my mind that I'd started to worry a few months back about whether they'd arrive, and then I'd finally stopped the day before. Barring some obligatory concern about the snow, naturally.
Some of us worked. Kent amused himself with Go problems. Several solo practice games sprang up around the room, as soon as boards and stones were available and greetings had been made. The kitchen realized with horror that we were going to be drinking about 50 gallons of coffee per hour (or so it felt). I milled, fretted, tried to trouble-shoot problems, then looked at my watch and realized I was running late for my opening speech.
No matter which form the opposing pair make-up took, each game I participated in was intense and absorbing despite my exhaustion. I'd always expected to love Pair Go, but right now I really want to sit down and play all of those games again. I'm already excited about next year's Te wo Tsunaide.
After a little more milling and fretting, Karen did the honours of clamouring for everyones attention this year (and did an impressive job of it!). The snow had caused her to be absent last year, so that was Steve Shapland's job. This year his job of the moment was sorting out 1st round pairings. I explained the rules, and the 6 awards, in case anyone wasn't keeping up on the web site (and for those who are as absent-minded as me). Questions were answered, all 3-4 people who somehow mastered the art of programming Ing clocks raised their hands, and round 1 began.
This is the point where I'm supposedly no longer on staff, and am only playing in the tournament (problem being that I'm a compulsive worrier, and this is one of my babies). I always need to give much thanks to Kent for being tolerant of my mind being so split being playing and general tournament fretting. In some of the pictures I look like I'm trying to yank most of the hair out of my head, and I'm hoping I didn't punch him too many times during those attempts.
For the first round we played Aichan and Yaphet Tewahade, giving them 6 stones. They are an impressive Pair, getting stronger each year. Last year they knocked-out my husband and daughter in Round 1. This year Kent and I knocked them out in Round 1, but it was as close as it gets and a real nail-biter of a game. Kent and I both moved out of turn in different stages of the game, so we both needed to pass them 3 stones for the penalty. It's easy to get excited and forget whose turn it is during these tense games! One might think the Organizer, who had so recently finished explaining the turn-order to everyone, could get it right. Apparently not!
The game was so intense for me, and it looked so close, that I did not want to count the score in the end. I opted for kicking back and waiting for someone else to mention it (though I did help with seichi). When it seemed to have been counted, Paul located a hidden white point and Kent exclaimed "Oh, good!". I thought that was because, as it turned out, the game was a draw and we only won by .5 points after that final missing point was discovered. That was part of it, but it was also because Kent had played inside our territory to evade a ko and was worried that doing so had cost us the game by exactly 1 point. Ah, yes, that wouldn't be much fun.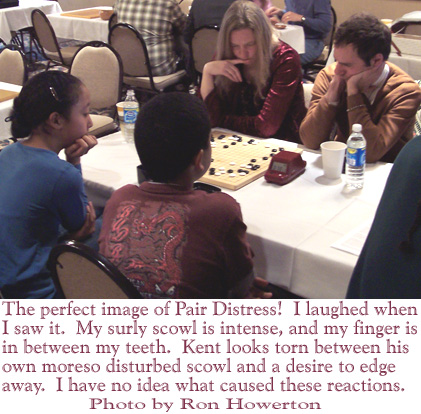 I was impressed with Aichan and Yaphet and recommended them if a strong stand-in was needed for round 2. Sometimes you have uneven Pair numbers for rounds. In these instances I think it is most fair for the knocked-out Pair with the strongest losing score to stand-in. They can't continue in the knock-outs after that round, but they can knock a Pair out. Losing scores don't get much stronger than a .5 point loss! As it turned out, they did get used as stand-ins and were defeated by the tournament's #1 Pair. Obviously they could've fared very well with better pairing luck. (And they did anyway, they continued playing in the post knock-outs and won the Out-Standing Youth Pair Award!)
Some people had already broken for lunch by the time our game was over. The lunch break was long, the kitchen seemed a little over-loaded and took time with the orders. Perhaps gathering pre-orders would be a good idea next year. I got my food right about when it was time for the next round, and forgot to eat more than a few bites (never a good idea for me, but I do it often at Go clubs as well -- Go is more engrossing than food).
During lunch I told Kent "Okay. Simple things we should be able to remember. Ladies' first. Black first. You go after the guy, I go after the girl.". I'm pretty sure we managed to avoid turn-order violations from then on (unless they went unnoticed). I did catch myself on the verge a few times, again it was simply getting caught up in the excitement.
The Round 2 pairings were announced. Kent and I were going to play Ruth and Steve Thomson. My immediate reaction to Kent was "Oh no, them again!". We knocked them out in round 1 last year, but we spent most of the game feeling like we'd lost. In the end we managed to turn it around by killing a group. As we settled in, they joined us and Ruth made the same comment I'd made to Kent. Good to see us all so eager for another show-down. ;) Kidding, of course, they're a scary Pair (as in scary strong) but scary Pairs are always fun to play. Last year they had 4 stones against us. This year they had 3, which somehow didn't make it less unnerving.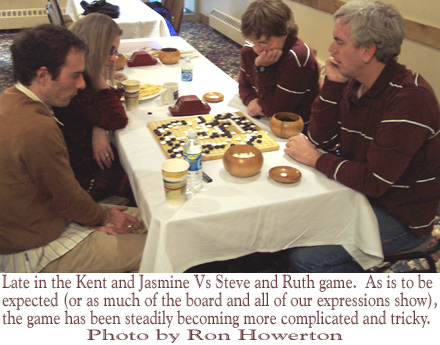 And, who would've guessed it, Kent and I won by killing a group (14 point win, bigger kill). Initially a small group of ours was cut off, but I wasn't very worried about it because I'd been looking at the first 2 steps in what I hoped would be a big kill (that would in turn resurrect the cut-off group). Eventually Kent made the 1st move and I made the 2nd. It took 5 white moves to finish the kill, but we got it right. *phew* The game went into byo-youmi on our side, and last year (when it was sudden death) we were close to a time loss. It definitely seems to take a lot of thought to play Ruth and Steve.
After that game, things began going a little awry for me at the tournament. I suppose I had expected to be playing leisurely post knock-out games and helping with the Awards by the time of the semi-finals. Instead, we were 1 of the 3 Pairs to make it into the semi-finals. I'd had too little food and too much coffee, my blood pressure was up, my heart was erratic, I had a migraine, my stomach was upset, and I realized I'd left a beta blocker prescription that would've handled most of that at home. I requested a delay from the pairers and the upcoming opponents (for us only, Bob and Karen started playing Ruth and Steve so we could keep things rolling) while Bruce hurried home to get my pill. The saddest thing is that I'd even packed my pills the night before, to make sure I couldn't forget anything. I think it was wrong (an unnecessary delay) to wait for my pill, next time I'll simply play.
By the time I'd taken my pill and we'd begun the game, the tournament was becoming a little needy. Steve Shapland had previously arranged leaving early for a meeting. I thought Bruce would be able to handle it with no problems. However, the Photographer (Ron Howerton) also needed to leave and some of the post knock-out prizes needed to be sorted out. And, of course, post knock-out games were still being paired. You can see me clutching my head in at least one picture from my semi-finals games. Let's just say I learned many organizational lessons quickly.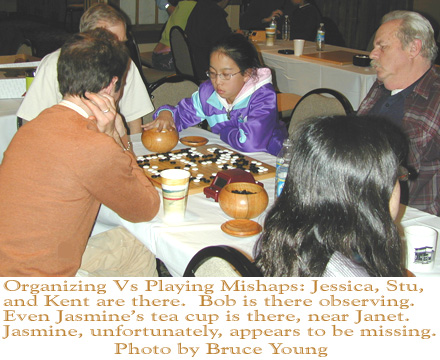 Kent and I played Jessica and Stu in the semi-finals. I feel we would have been likely to lose, they were a truly formidable Pair, but I also feel it would've been a great game if I hadn't been too disappointingly distracted. One of the lessons learned: make sure I arrange more back-up for Bruce next time. Oh, yes, and donít forget my prescriptions. Perhaps we could've been far along enough in the game to avoid trouble if that hadn't happened. Eventually I felt I should acknowledge that I was pretty clueless about what was happening in the game, and asked all 3 other players if it would be appropriate to resign. Everyone seemed to feel it would be, but I still felt terrible for letting everyone down.
Though I was then free to help Bruce get caught back up on everything.
Fortunately that was the only downer of the day for me. I very much enjoyed the first 2 games, and the whole tournament feel. I love playing Pair Go. I'm an insecure individual and it always makes me feel more confident to know there is someone there who might be able to save me if I start messing up or getting a little too insane in my moves. I always seem to learn things as well, though this year my head was admittedly clouded with things I learned about running tournaments (for the best, it'll be much easier for me next year). My partner and I are both a little wacko in our playing styles sometimes, but we also balance each other well in ways. I feel comfortable and stronger with him, though he doesnít believe that because I'm always so anxious about the tournament.
And Kent never seems to get on my case for my bimbo moments (barring not noticing we were going into byo-youmi). One time, I think during the Ruth and Steve game, I played a reasonably safe knight's jump off of Kent's 3-3. Or so I'd thought. I'd actually played a not even remotely safe super knights jump. I sat there looking blank, wondering if he was driving himself insane trying to figure out why I had decided to make such a move. So goes Pair Go, no way to let him know I hadn't decided to make that move. It was 100% pure pedigreed Blunder.
This year I noticed some changes in my Pair Go playing. Last year I spent more time stressing over not knowing what exactly he was doing somewhere (typically opening to early middle game). This year, in those situations (not tactical ones, obviously), I felt fine about making forcing moves elsewhere, or simply doing something else, and giving him another opportunity to explain himself with another move. I suppose this is learning to let your partner speak with the stones, as opposed to gnawing a fingernail off over not getting it. It's too bad this was likely our last tournament together, I loved playing with him.
Anyway... After the tournament was re-settled, we finally got our Round 4 game in. I wanted to play the Amara Sailing and Dave Weiss Pair. Partially because Amara is my daughter, and I was interested in seeing how she was faring with Pair Go. Partially because Dave was the dan who taught me the most, and back when he was teaching me I would be over-whelmed with insecurity whenever I tried to play out even openings with him. So I really wanted the opportunity to be brave and give him 5 stones! Unfortunately Amara was pretty tired by then and it didn't last long (I discovered after writing this that they had already played 4 games, though one was "just for fun". No wonder she was tired!). Dave eventually decided it was a good time to resign.
This was probably for the best. The only other round 4 games still running when we started were Jessica and Stu Vs Karen and Bob in the Finals, plus Vivian Chen and Paul Barchilon Vs Diana Yang and Albert Hwang. Being able to finish playing before the Finals ended was both helpful and necessary. The 2 post knock-out games were important as well, because both involved contenders for the Fighting Spirit award. If Paul and Vivian + Kent and I won, there would be a tie-breaker. If both Pairs lost, the award would go to Larry LeJeune and Janet Chen. Since the complicated route is often the one that will occur, both Pairs won.
Kent and I had the tie-breaker points for surviving to Round 3 and only losing to the #1 Pair, so I briefly wondered if I should exclude myself because it would've been nice for Paul and Vivian to win. Then I remembered that my partner is a participant and not on staff, and he'd already been through enough of the down-sides of playing with the Organizer.
After that game I doled out some Awards (in case anyone needed to leave) and took several photos of the Finals game. One of my favourite memories of the day is Aichan's huge surprised smile when I announced that she and Yaphet had won the Out-Standing Youth Pair Award. Yaphet smiled too, but Aichan almost seemed to glow for a moment there. That's always the kind of sight that makes it all worth it! Katherine Lin and Ben Alpert also seemed happy with their Most In-Sync Pair Award. Another favourite moment was giving the High Kyu Award to Chris and Emily Butler. Emily was terribly cute, and looked pretty excited about it. It was so infectious that I even saw a picture of me smiling broadly afterward, that's a rarity! I decided to hold off on Fighting Spirit until 1st and 2nd place were ready to be awarded.
And that was an exciting end to a game! It looked like Karen and Bob were going to pull it off. The game was in byo-youmi and a crucial ko fight emerged. Eventually time stress seemed to turn it around. Bob played a move a little too slowly, and they lost on time, but at that point they had lost on the board as well.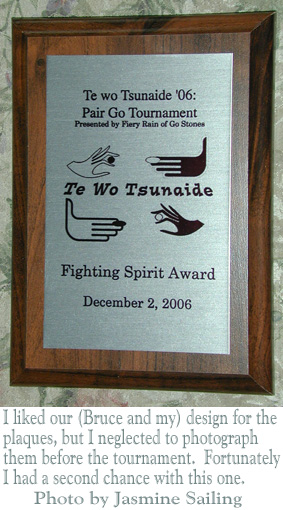 Almost everything had been packed up and taken out to the car. So we had our final awards ceremony. I presented the awards to Jessica and Stu + Karen and Bob. Everyone (including the other 4 winning Pairs) received matching plaques. The top 2 Pairs received free copies of the Smart Go program (many thanks to Anders!), and the top Pair also got a discount from Kiseido. I felt a little too weird about needing to present an award to Kent and I, so Bruce (who had been taking photos with my camera) stepped in as Presenter and Paul stepped in as user of my camera.
And so the day was over. It was quite a day for me. I loved the games (barring my guilt over delaying then bowing out on the 3rd one), and I learned a lot about trouble-shooting the tournament (best to do that now, as opposed to later when it is bigger). Outside of Te wo Tsunaide, I have never run tournaments (though I have run numerous multi-media events) so it is a constant learning experience for me. I'm sure it would've been easier to start with something more simple than Pair Go, but I always appreciate a good challenge.
I've already scheduled the next tournament for December 1, 2007, and I am very much looking forward to it. Some Pairs are practicing weekly now, I'm very encouraged by their seriousness! During the course of the day I also discussed setting up a free practice faux tournament and Pair Go sampler around June, so Pairs can get a little more experience and unpaired people can borrow partners to try it out.
A few people have told me that Pair Go looks too scary, that Go is already difficult enough when you only have your own moves to worry about. This is true in a way, but I think if they tried it they would realize Pair Go is fun-scary as opposed to just plain scary. Would any of us play Go at all if we didn't love the intense challenges it offers?
Back to the Te wo Tsunaide '06 index.