Te wo Tsunaide '06
Awards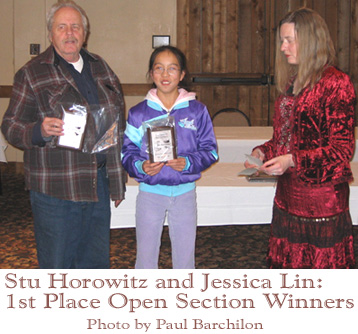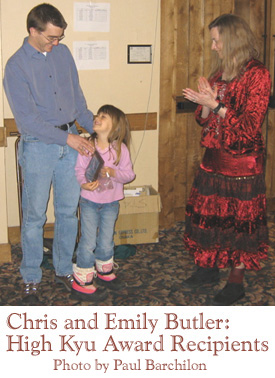 Note: Some of these pictures may be replaced, and shuffled off to other pages.
Awards:
1st Place: Jessica Lin (5 kyu) and Stu Horowitz (3 dan)
2nd Place: Karen Jordan (5 kyu) and Bob Meyer (7 kyu)
Fighting Spirit: Jasmine Sailing (5 kyu) and Kent Evenson (3 kyu)
High Kyu: Emily Butler (31 kyu) and Chris Butler (9 kyu)
Out-Standing Youth Pair: Aichan Tewahade (11 kyu) and Yaphet Tewahade (9 kyu)
Most In-Sync Pair: Katherine Lin (6 kyu) and Ben Alpert (5 kyu)
---

We had 6 different awards. Each award-winning Pair received matching plaques. All 4 members of the top 2 Pairs also received copies of the Smart Go program, courtesy of Anders at Smart Go. The #1 Pair received discount coupons from Kiseido as well.
We had 3 semi-finalist pairs, with Jasmine Sailing and Kent Evenson being the extra one. Ruth and Steve Thomson (both 7 kyu), had a strong loss to Jasmine and Kent in round 2 and stood in as opponents for Karen and Bob in round 3. (Please note that this was allowed due to any potential bias being against the organizer's pair.) Karen and Bob prevailed against Ruth and Steve, while Jasmine and Kent were knocked out by Jessica and Stu.
The Fighting Spirit award goes to the knocked-out pair with the most wins. The tie-breaker points are how far they got in the knock-outs, and how well their (first winning, and then losing) opponents fared. There was a 3-way tie for Fighting Spirit. Jasmine Sailing + Kent Evenson, Paul Barchilon (4 kyu) + Vivian Chen (14 kyu), and Larry LeJeune (6 kyu) + Janet Chen (12 kyu) all had 3 wins. The tie-breaker went to Jasmine and Kent for making it to round 3 and being knocked-out by the 1st place Pair.
The High Kyu award celebrated brave Pairs who faced Pairs with significantly stronger ratings. Emily Butler is only 5 years old and put up quite a fight! We all have high expectations for this Pair.
The Out-Standing Youth Pair award goes to a youth-only Pair who fared exceptionally well at the tournament, but did not make it into the finals. This was Aichan and Yaphet's 2nd year of playing together at Te wo Tsunaide, and they are indeed becoming a formidable Pair!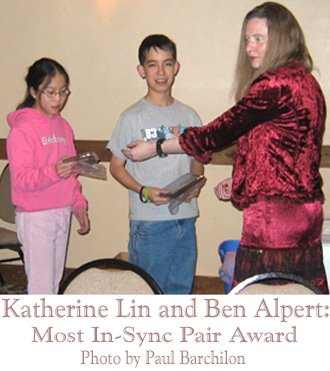 Most-In-Sync is voted for. All participants, staff, and observers can vote for the Pair they thought played the best together. Voters are required to sign their names, provide a reason for the vote, and, of course, refrain from voting for their own Pair. Katherine Lin (6 kyu) and Ben Alpert (5 kyu) barely won out over Ruth and Steve Thomson + Aichan and Yaphet Tewahade.
Congratulations to all of the award recipients, and to the other top contenders!
As the winners (and the organizers) contribute tournament reports, you will be able to find several more photos of the winners and their games on those pages. Also look for more in the photo gallery!
Back to the Te wo Tsunaide '06 index.