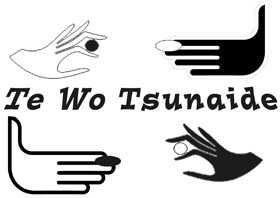 Te wo Tsunaide '05:
The US' 1st non-Congress Pair Go Tournament
Saturday December 3, 2005: Denver, Colorado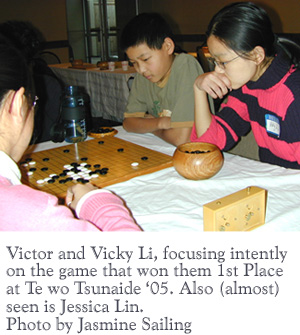 Presented by Fiery Rain of Go Stones and Samarkand.
The first Te wo Tsunaide has come and gone, and we all appear to have had a great time. Here is a collection of commentary and photos from the event to peruse while awaiting the next tournament. Anyone who attended Te wo Tsunaide '05 (as a player, spectator, or staff member) is still welcome to contribute to this archive. That's a permanent invite, don't worry about being several years late!
There's a lot more past archiving to browse through via the Te wo Tsunaide '06, Te wo Tsunaide '07, and Te wo Tsunaide '08 archives as well!
Back to the Te wo Tsunaide index (if you are done here).
---
Te wo Tsunaide '05 Reports and Photos:
---
Te wo Tsunaide '05
Date: Saturday, December 3, 2005
Arrival Time: 10am
Location: Ramada Downtown Denver (Capitol Hill)
Guest Host: Janice Kim
Te wo Tsunaide '05 staff:
Organizer: Jasmine Sailing
Organizational Assistant: Bruce Young
Pairings Director: Tim Rand
Pairings Assistant: David Weiss
Registration: Cherie Sailing
This web site is designed and maintained by Jasmine Sailing.