Te wo Tsunaide '05 Comments
Jessica and Katherine Lin
---
Pair Go Tournament
Jessica Lin (10 years old, 7 kyu)
Winner: 2nd place, with Bill Manka (2 kyu)
I was very excited to participate in this tournament. It was challenging and a good experience for me to learn new techniques in Go games. Although you can't communicate with your partner during the game, you can guess what your partner was thinking through his/her each step. It teaches me to be more attentive and patient during the game.
I like the idea of Pair Go and wish there will be another Pair Go Tournament in the near future. I will try hard to win the first place.
---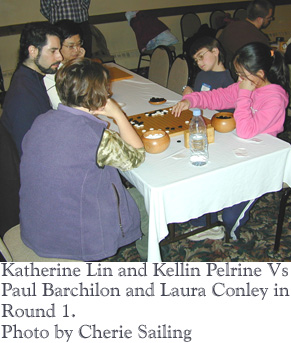 Pair Go Tournament
Katherine Lin (10 years old, 10 kyu)
Winner: Fighting Spirit Award, with Kellin Pelrine (7 kyu)
The Pair Go Tournament was really great. This tournament stood out the most from all the others because it was different. Two players play against another two players without communication. Sometimes it felt difficult to not talk to your partner. I have to know what (s)he was thinking about the steps. These were the most challenging games I've ever had.
I was so lucky to be a partner with Kellin. He is such an enthusiastic player. I learned a lot not only from this tournament but also from him.
I hope I will get more chances to play Pair Go at tournaments. In the future, I would like to have a longer time period for each game (now the time limit is 45 minutes) in the Pair Go Tournament. Overall, the tournament was fantastic and I really enjoyed it.
Back to the Te wo Tsunaide '05 index.