Te wo Tsunaide '05 Comments:
Jasmine Sailing
Te wo Tsunaide '05
Pair Go Tournament Report
by Jasmine Sailing (8 kyu)
Partner: Kent Evenson (3 kyu)
As organizer of the 1st annual Te wo Tsunaide (lucky to be the US' 1st non-Congress Pair Go tournament), and a participant, I'm still too exhausted to do more than rely on the words of others: "it was a success".
From an organizational viewpoint, it was technically a success the moment I arrived... later than I'd said I would. I spent a little too much time worrying about the impact of a snowstorm that morning. Upon reaching the hotel (fortunately in time to finish setting up on schedule), I was overwhelmed to find the tournament room full of people. All of the Go sets and clocks were out on the tables, coffee and donuts (pre-ordered) were served, pre-registered and unregistered pairs alike had been tallied and matched for round 1. You know you well-spent 3 months of prep work and staff selection when you begin an event wondering if your arrival was even necessary!
It was, though, because I'm a female player and we needed all of us. Especially after losing some to the snowstorm. I'd put considerable effort into ensuring that things would run smoothly enough without me so I could switch from organizer to participant on the day of the event. I'll admit it, I started a Pair Go tournament because I really really wanted very badly to play in one. I'd even selected my partner about 1.5 years before I finally had a reason to ask him! Everyone should consider scouting for partners in advance, even if they foresee no opportunities for trying Pair Go in their immediate futures. Maybe finding a partner will lead to finding pairs to play.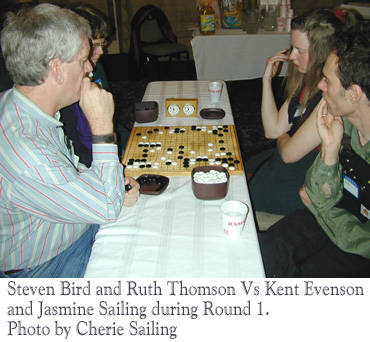 In the end, despite the unfortunate weather, we managed a healthy double digit of pairs. Adam Shamblin even brought in a partner from Seattle (Deborah Pierce). Quite a few spectators attended as well. The day began with a talk about the tournament from me, followed by a demo of turn-order and a Q&A about the rules from Janice Kim (with demo aid courtesy of her husband Bruce + Jessica Lin and Bill Manka). Then the games began.
And what a thrill they were! Naturally there was the excitement of wondering whether or not you and your partner could anticipate each other well enough, on top of playing against 2 different people at the same time. Pair Go brings other uncertainties into play as well, like giving a handicap to someone you normally take one from because they have a lower rated partner. Some pairs had dramatically different ratings, the biggest gap between partners was about 44 kyu! Many of us chose to play with people close to our own ratings. I was one of them, with a partner about 2-3 kyu stronger (though his rating had recently bounced, one more thing to be stressed and excited about!).
No matter which form the opposing pair make-up took, each game I participated in was intense and absorbing despite my exhaustion. I'd always expected to love Pair Go, but right now I really want to sit down and play all of those games again. I'm already excited about next year's Te wo Tsunaide.
The tournament style was knock-out, but everyone who was knocked out could continue to be paired with each other afterward. Aside from prizes for the knock-out finalists, there were also 2 awards for KOs to encourage everyone to continue playing. Many pairs played 4 games, even some who were knocked out in the 1st round. Solo games sprang up around the room as well. Janice Kim, David Weiss, and Paul Barchilon were all caught teaching Go to young children.
Which is very much appreciated, because child pairs earned most of the glory. And it was definitely very well-earned. Every single pair from the Boulder Kids' Club survived round 1. 3 were child-only pairs (Vicky and Victor Li, Katherine Lin and Kellin Pelrine, Aichan and Yaphet Tewahade), another was a child/adult pair (Jessica Lin and Bill Manka). Watching these kids constantly zip up in strength over the past year has been amazing, and much of the credit goes to Paul Barchilon and David Weiss at the Boulder Kids' Club. I told Janice it'll be easy to have sections at next year's Te wo Tsunaide, partially because these kids will all be dans by then. I would not be remotely surprised!
Vicky and Victor Li were sent to the finals by Katherine Lin and Kellin Pelrine, Jessica Lin and Bill Manka were sent there by... Jasmine Sailing and Kent Evenson (both of whom had intended to let a frazzled and exhausted Jasmine have fun in the post knock-outs, but that plan went awry because the games were simply too exciting).
Janice Kim donated trophies plus prizes (everything was doubled, so both pair members could be rewarded) for 1st and 2nd place, and signed tournament memento book sets for the 2 extra prizes. 1st place went to Vicky and Victor Li. 2nd place was, obviously, won by Jessica Lin and Bill Manka.
The additional prizes were for Fighting Spirit (knocked out pair with the most wins) and Most In Sync Pair (determined by a vote from everyone present, including Go-playing spectators). Katherine Lin and Kellin Pelrine won the Fighting Spirit award after a post knock-out game with Ruth Thomson and Steven Bird, who were also top contenders for the award. Most in Sync Pair went to Jasmine Sailing and Kent Evenson. The 2nd-most votes were received by Katherine and Kellin. Vicky and Victor fell into 3rd place.
At the end of the day, everyone I asked felt the tournament had been a success and that future years would only get better. I feel the same, and I'm grateful that we pulled this off. It seemed to be a lot of fun for participants, spectators, and staff alike. Here's to hoping Te wo Tsunaide will continue to grow into an even more wonderful event, though I honestly have no qualms that it won't.
Back to the Te wo Tsunaide '05 index.